Data portal is a platform designed to store, publish and share data from different applications and users. It makes data gathering easier and more practical. User-friendly view was created with the aim to search large datasets fast and intuitively.   
Information available in laboratory systems like LIMS is presented in a process-oriented way and mostly patient/report centric. Search capabilities are specialized to access certain patient/case.
Data Portal is dedicated for professionals who need comprehensive overview of patients and results. Most of the presentation is cohort oriented with extended search capabilities related to large data sets.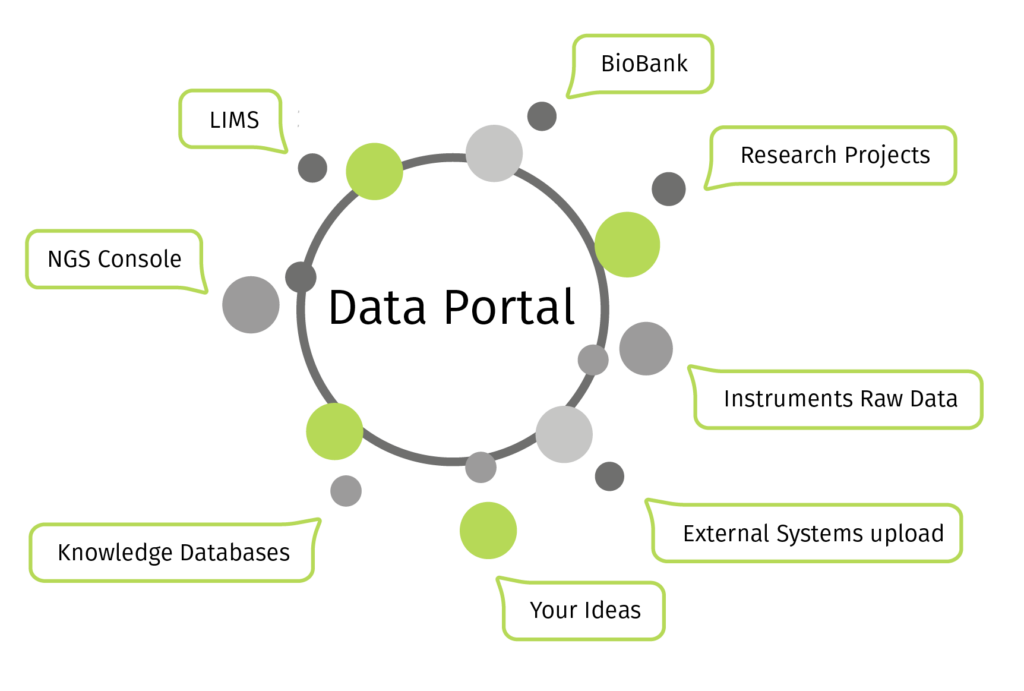 EASY TO SUBMIT
Data submission to Data Portal is easy and equipped with tools and guidelines to back the entire process. Data Portal supports wide range of file formats and data types. Moreover, your data may be integrated with external sources and databases such as NCBI, Ensembl, or COSMIC.
SEARCHABLE
Data can by filtered in a fast and dynamic real-time manner using different parameters and features with response time less than one second for the largest datasets.
Apart from standard search, you can build your own tailored filters and rules, including or excluding specific information and components. System is equipped with extended search capabilities with conventional and visual (drag&drop) query building. Results of such queries are displayed online while building the query.
TRANSPARENT
Data Portal creates an environment where you can gather and link information from different apps and present them in user-friendly and clear manner as graphs, plots and charts. Mutated genes and mutation prevalence can be visualized within the single project, selected projects and entire database.
COLLABORATIVE
Data Portal is a space for physicians and scientists to share results in order to bring precise medicine closer to their patients. With an adequate access level, you may also enter data directly in the Apps that they are derived form.